Cross Promotion
Introduction 
Cross promotion is an essential part of any app developers marketing strategy to help grow newly launched apps while maintaining users in their portfolio.
The cross promotion solution from ironSource enables app developers to run cross promotion using the full capabilities of a user acquisition and mediation platform. Manage and optimize cross promotion just like an ad network. For user acquisition, run a cross promotion campaigns just like any other UA campaign, with CPI bids, ROAS optimization and smart data science delivery. For monetization, optimize cross promotion instances in the waterfall with full eCPM performance transparency.
Note: If interested in using CPM Pricing, please reach out to your Account Manager or Contact Us for more information.
Cross Promotion Setup
Step 1: Navigate to the Cross Promotion Page
Once you log in to your ironSource account, go to 'Monetize' ➣ 'Setup' ➣ 'Cross Promotion':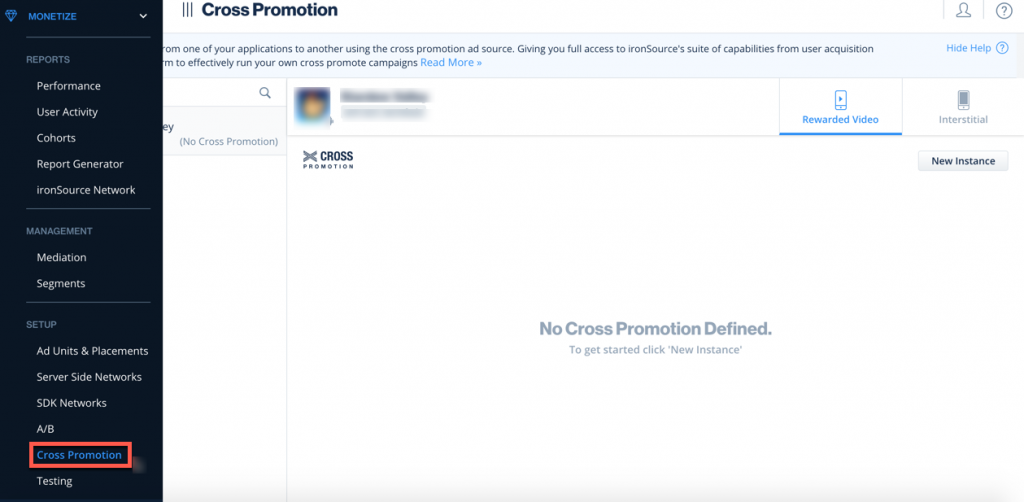 Step 2: Cross Promotion instances Setup
Choose the ad unit for which you'd like to add Cross Promotion instances > click on the 'New instance' button to open the Instance Settings window: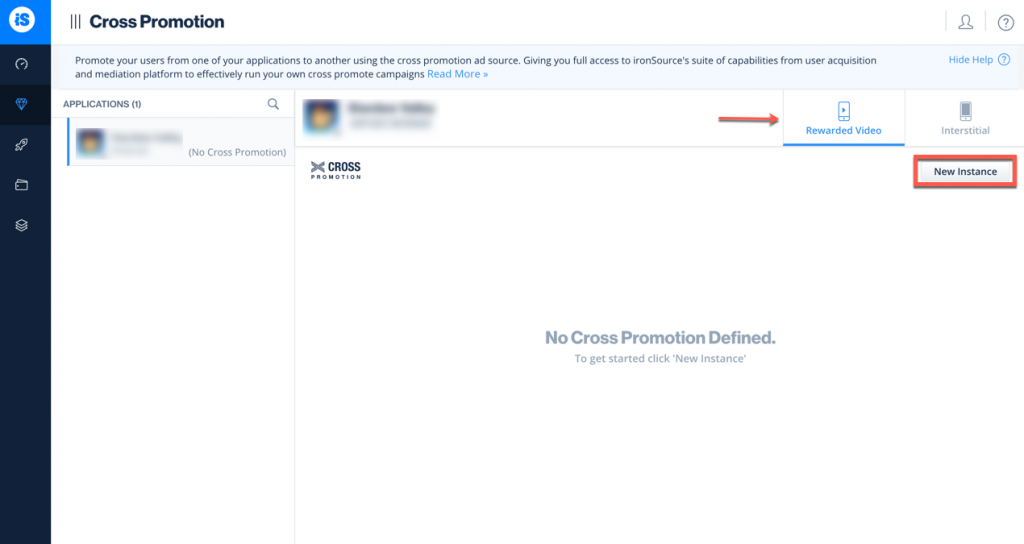 You will then see the below window: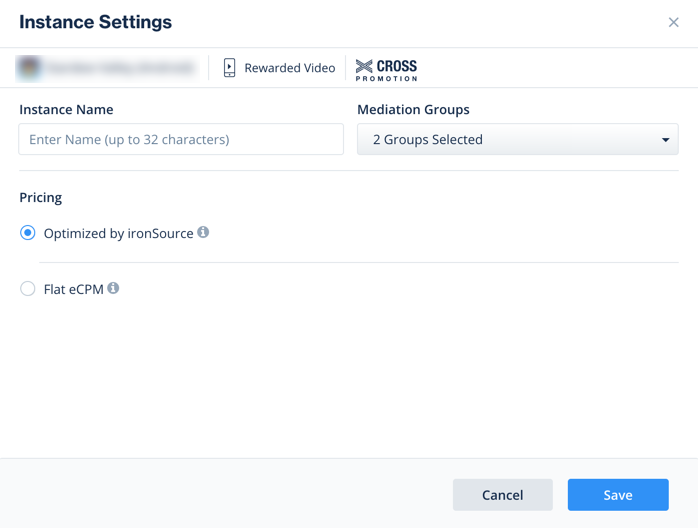 To add a Cross Promotion instance, you will need to provide a unique instance name and press 'save'.
You will then see the below window: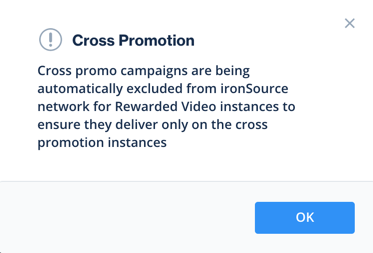 All active cross promotion campaigns from your UA account will deliver only to these dedicated cross promotion instances, and will not deliver on the ironSource network instances.  This Avoids having the same campaigns compete under two different instances.
Cross Promotion and CPM Pricing 
CPM Pricing allows you the control and flexibility to define expected CPM rates from your cross promotion instances. Using CPM Pricing on the instance level facilitates the use of your cross promotion instances at multiple locations in your waterfall, each with different price points.
Setup:
To set your CPM Pricing per instance, navigate to the relevant ad unit tab and click on the 'Edit' icon to open the Instance Settings window of your desired instance to define the pricing.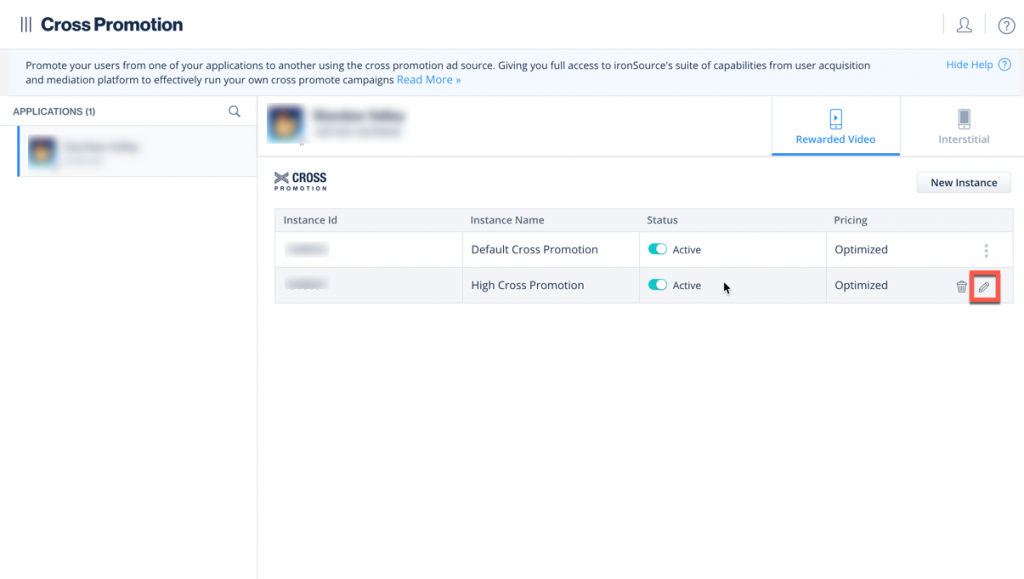 You will then see the below window: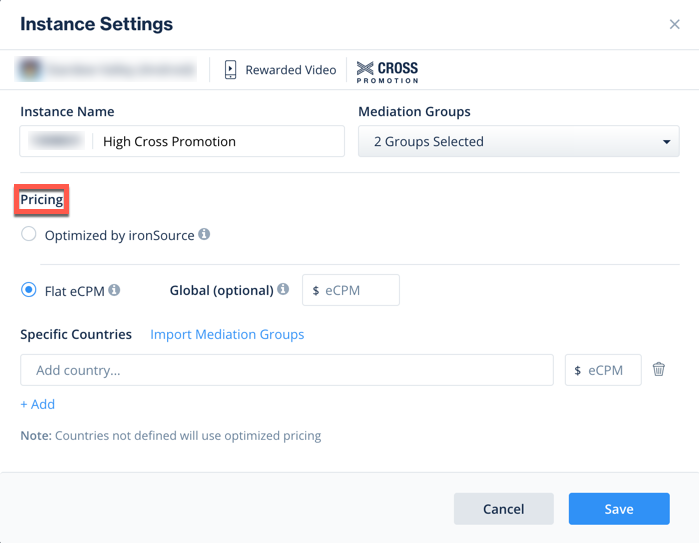 At this stage you have the ability to set either 'Optimized by ironSource' or 'Flat eCPM' pricing types:
Optimized by ironSource

: ironSource will self optimize to achieve the highest eCPM and revenue performance from your cross promotion instances. This will not hold a static CPM value.

Flat eCPM

: Define a CPM that the cross promotion instance's campaigns needs to meet to serve an ad. CPMs can be set on individual or groups of specific countries, and on the global level. Global pricing is optional and can be used in conjunction with specific countries. 
Guidelines for setting CPM Targets for cross promotion:
Setup 3 unique instances per waterfall: For every custom waterfall you are creating, on both the country and ad unit level, we recommend to create 3 unique cross promotion instances.
A high-priced instance that should be placed at the top of the waterfall, which will serve the highest value cross promotion ads.

A mid-priced instance that should be placed in the middle of your waterfall.

A low instance that should be placed towards the bottom of your waterfall or in the auto-optimization section, where it will pick up the remnant inventory with the highest fill rate. It's best to allow ironSource to automatically optimize eCPM for this instance to ensure highest fill.
Note: To enable CPM pricing on your mediation account, Contact Us or reach out to your Account Manager.
Done! You've successfully added additional Cross Promotion instances! Moving forward, only cross promotion campaigns will deliver on the new Cross Promotion instances.
For instructions on how to set up your cross promotion campaigns go to the campaign setup article