Cohorts
App Analytics measures a cohort as a group of users that install and launch your app on a specific day.
The Cohorts page helps you understand how each cohort engages with your app, including playtime, ads watched, and how much they spend on in-app purchases. This data gives you a complete understanding of your apps' lifecycle.
The cohort table is shown on one screen, without pagination, so you can easily identify performance trends.
Note:
Revenue is reported in USD
Time is reported in UTC
Follow these steps to create a custom cohort report based on the app data that's most important to you:
Step 1: Navigate to Cohorts
Log into your ironSource account. From the left menu bar, navigate to App Analytics and select Cohorts.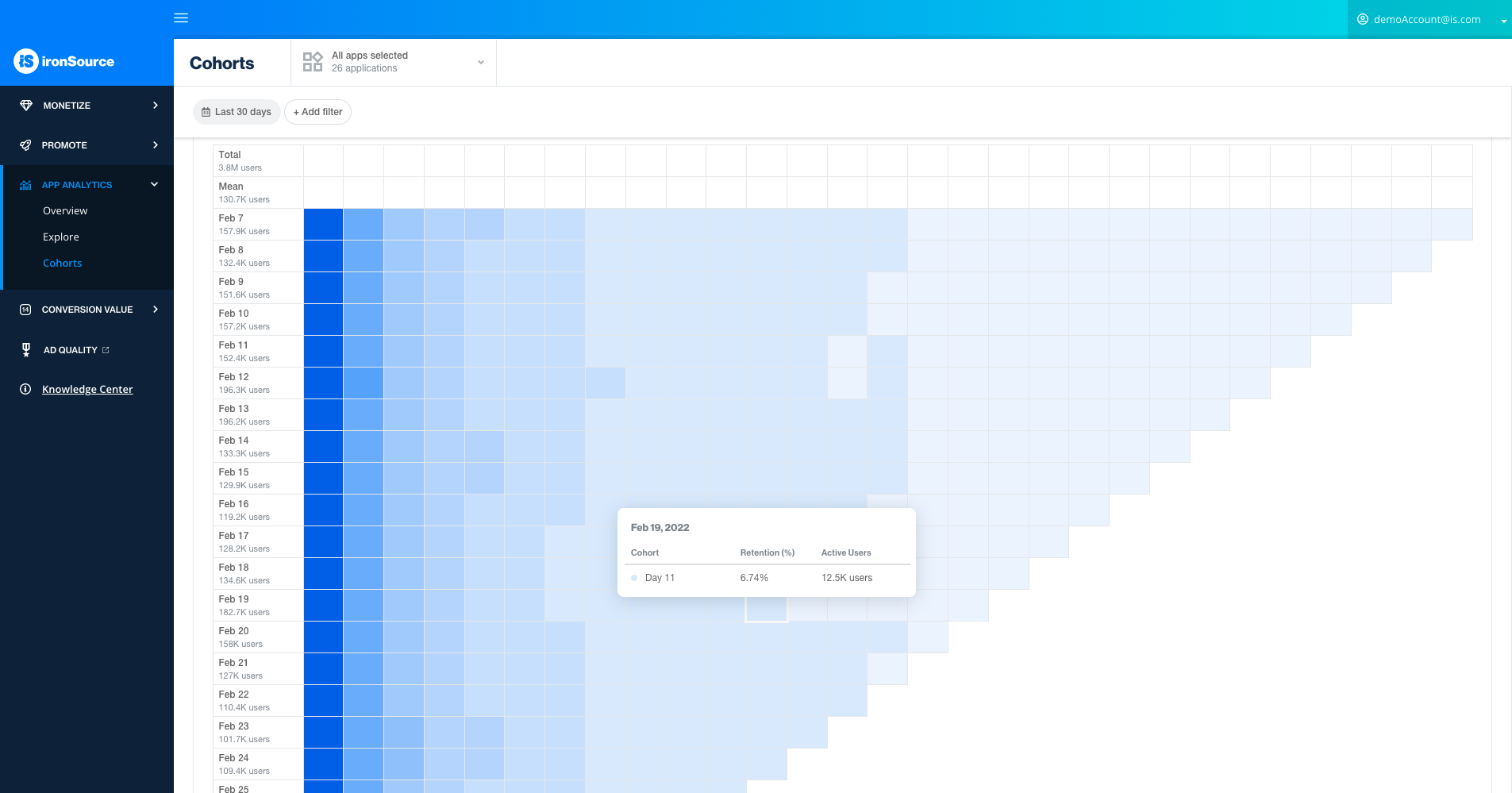 Step 2: Configure your report 
Metrics
Select one of the following built-in KPIs:
Retention (%)

Retention (Count)

Playtime

Session length

Sessions

ARPU

ARPPU

Revenue

Ad revenue

IAP revenue

Paying users

Converted users

Conversion rate

Engagement rate

Impressions per user

Impressions per engaged user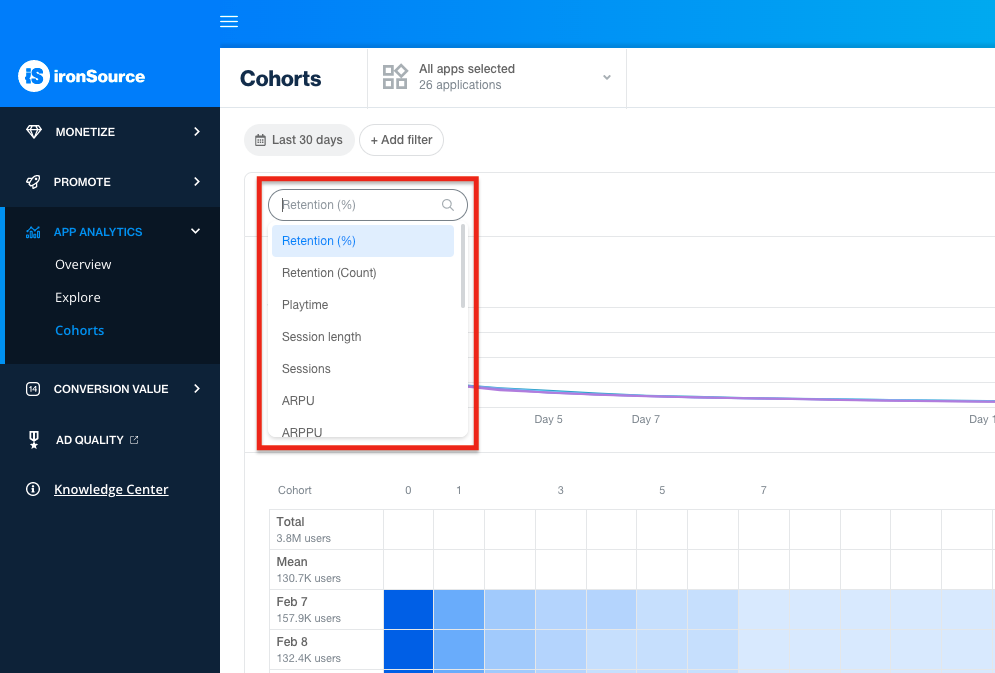 Note: The value shown at the top of the graph is the D1 average of the selected metric.
Filters
Choose one or more of the following filters to analyze a granular segment of your users:
App

Country

Manufacturer 

Device model 

OS version 

App version

Paying users

Retained user

Consent status

Age

Gender

Login method
Breakdowns
Choose from the following breakdowns to analyze your data with additional detail:
Cohort

Application

Country

Device model

Manufacturer

New users

OS version

Paying users

Platform

Trackable users

App version (only available when one app is selected)

Granularity
View your KPIs on a specific day, or view your cumulative data.
Select On-day to see the KPI for that day only, and select Cumulative to see the aggregated total of the KPI per day.
Calculate user LTV by selecting the ARPU metric and Cumulative together.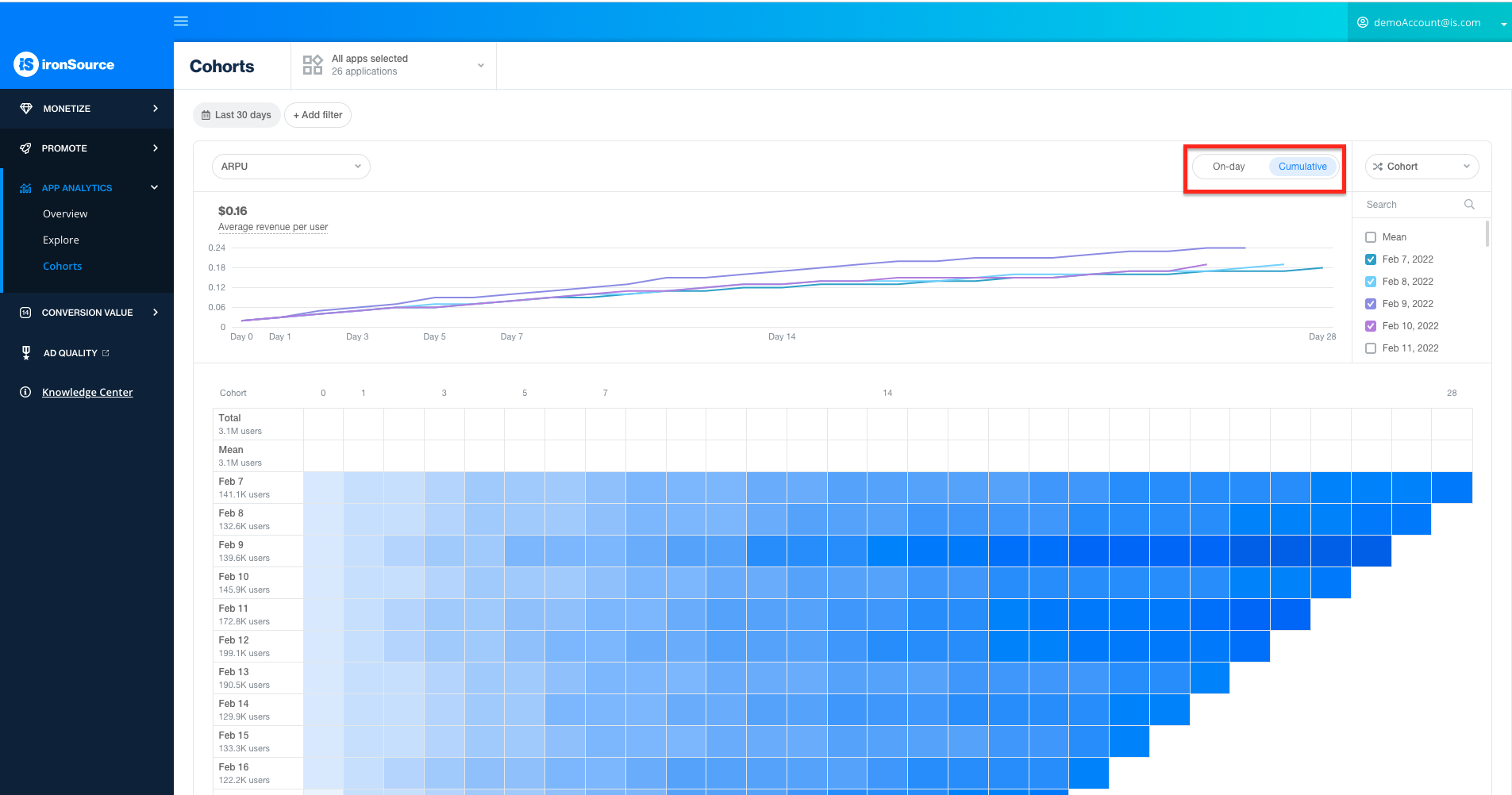 Time frame
View data from a specific time frame using one of the preset date ranges, or by selecting custom dates. The Cohorts page supports data up to 90 days back.