Interstitial ad
An interstitial ad is a full-screen static, video or interactive (playable) ad unit that offers users the option to exit and skip. They engage users with rich content at natural pauses in the app's flow, ensuring minimum disruption to user experience while maximizing user engagement and revenue. 
This is what an interstitial ad looks like: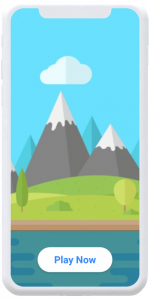 Benefits of interstitial ads
Engaging content

Full-screen size

Media content can be static, video or interactive
Rewardable 

Users who view the ads can receive in-app currency
Positive UX

Placement in natural transition points improves the overall user experience
High eCPM benchmarks

With the right implementation, playable and video interstitials can reach $10-20 eCPMs in tier 1 countries

Average eCPM = $4-6
Learn how to set up an interstitial ad.