Offerwall special promotion
Offerwall special promotions are a proven way to increase engagement, retention, and overall revenue for app developers. You can set an ironSource offerwall promotion from 1.5x to 10x the standard rewards offered to your users, for a limited time period.
What it looks like
Your special promotion offerwall will look something like this:
Benefits of running a special promotion
By offering increased value rewards, you give your users additional incentives to engage with the offerwall and complete offerwall tasks. This in turn improves user engagement and offer completion rates, leading to higher ad revenue and growth in IAP (since users get a taste of in-game boosts). 
In addition, when you let your account manager know that you're planning a special promotion, this information will be shared with offerwall advertisers to encourage them to bid higher for your traffic. 
How to set up a special promotion
You can set up a special promotion on your offerwall in a matter of minutes. Here's how:
Go to your

 

ad units and placements, then select

 

Offerwall 
Click on

 

Activate special promotion 
3. Select the reward multiplier (1.5-10x)
4. Set the start date, time and duration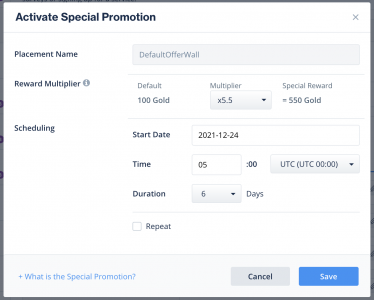 We recommend scheduling your multi credit promotions to coincide with the holidays in the USA.
2023 special promotions
Each month, ironSource organizes cross-network special promotions, so both publishers and advertiser partners can enjoy maximum impact. Most of the special promotions are scheduled around U.S. holidays, which bring increased traffic from school and work breaks.
January 20-22 – Mid-winter weekend
February 11-14 – Valentine's Day
February 24-25 – Booster weekend
March 10-12 – Welcome Spring
March 17-19 – St. Patrick's Day
March 31-April 3 – April Fools' weekend
April 7 -10 – Easter weekend
May 12-14 – Mother's day weekend
May 26-28 – Memorial Day weekend
June 9-11 – Summertime weekend
June 23-25 – Longest day of the year
July 1-4 – Independence Day weekend
July 14- 16 – Mid-summer weekend
August 4-6 – Summer booster
August 18-21 – Back to school promotion
September 1-4 – Labor Day weekend
September 21-24 – Start of Autumn weekend
October 6-9 – Columbus Day/Indigenous Peoples Day
October 27-31 – Halloween
November 10-12 – Mid-autumn weekend
November 23-27 – Thanksgiving and Black Friday
December 8-10 – Start of Winter special
December 22-25 – Christmas
December 29-January 1 – New Year sale