How to set up interstitial ads
In order to generate revenue for your app with our Interstitial ad unit, you will have to integrate the ad unit in your code and activate the Interstitial Ad Unit on your ironSource Dashboard. 
⚡ Before you start
To set up the ironSource Interstitial, you'll need to add your app to the platform. Follow this guide for instructions on
how to set up your app
.
Step 1. Select Your App
Once you've successfully added your app to your ironSource account, you'll be able to set up our ad units on the Ad Units page under Settings. Navigate to this page, select the app you'd like to integrate the Interstitial on and click on the Interstitial tab: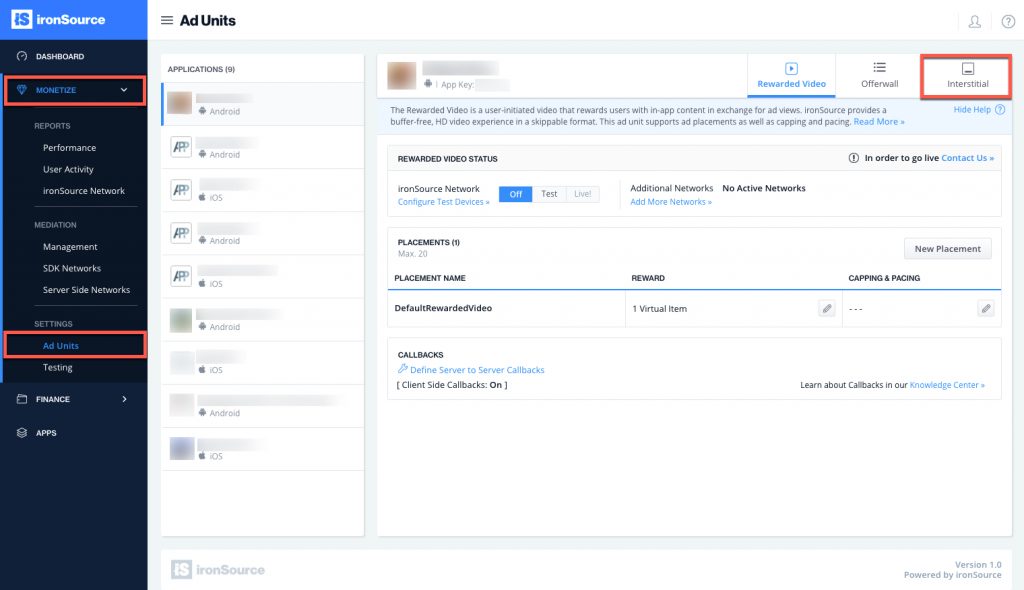 Step 2. Add Placements, Capping & Pacing
In the Placements section, you will see a DefaultInterstitial placement that you can edit and add capping and pacing settings for. In addition, you can add a placement by clicking  '+ Add Placement'.
Then all you have to do is select the Placement Name from the list or enter a custom name and click 'Save'.

Next, configure Placement Capping and Pacing to enhance the user experience in your app.

Placement Capping will limit the amount of ads your serve for the selected placement. You can set limitations by day or hour. As seen below, if you limit this placement to 15 impressions/day- you will only serve 15 ads for this placement per day.

Placement Pacing offers you control over the time interval between ads for the selected placement. For example, if you have an ad placement at app launch and a user opens your app, he will see an ad for this placement. If s/he then navigates out of the app and back within 3 minutes, he will not see an ad at app launch.


Note:

 You can't switch off the ad delivery for the default placement.
If you'd like to manually verify if a certain placement is capped call this method:
iOS
(BOOL)isInterstitialCappedForPlacement:(NSString *)placementName;
Android

boolean isInterstitialPlacementCapped(String placementName);
Unity
bool isInterstitialPlacementCapped (string placementName);
Step 3. Integrate the Interstitial in Your Code
To serve the ironSource Interstitial to your users, you must implement the Interstitial Ad Unit in your code as described here.
Next, set your set the ad unit to Test mode and verify your integration by adding a test device on the Integration Testing page.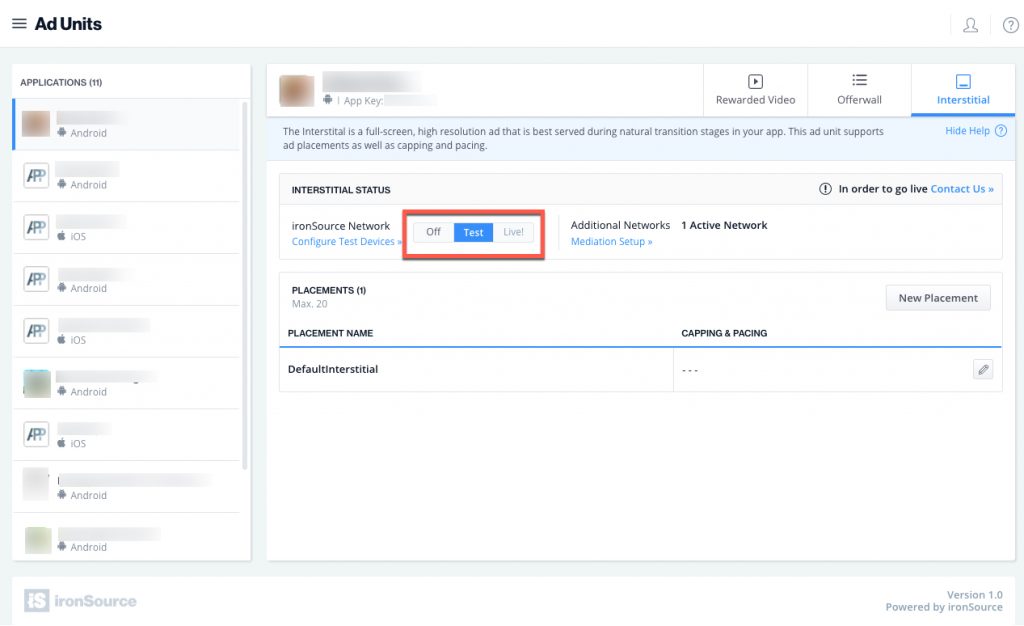 This module allows you to verify the integration of all ad units on specific devices so you can test ad delivery without affecting your live app version. You control the test ads on your Test Devices and can add, edit or remove Test Devices (per OS) as you see fit. Read more on the Integration Testing tool here.
Step 4. Set to Live
Once you've successfully tested ad delivery, activate the ad unit. If you don't have permissions to activate the ad unit on your dashboard, simply contact us and we will activate it for you.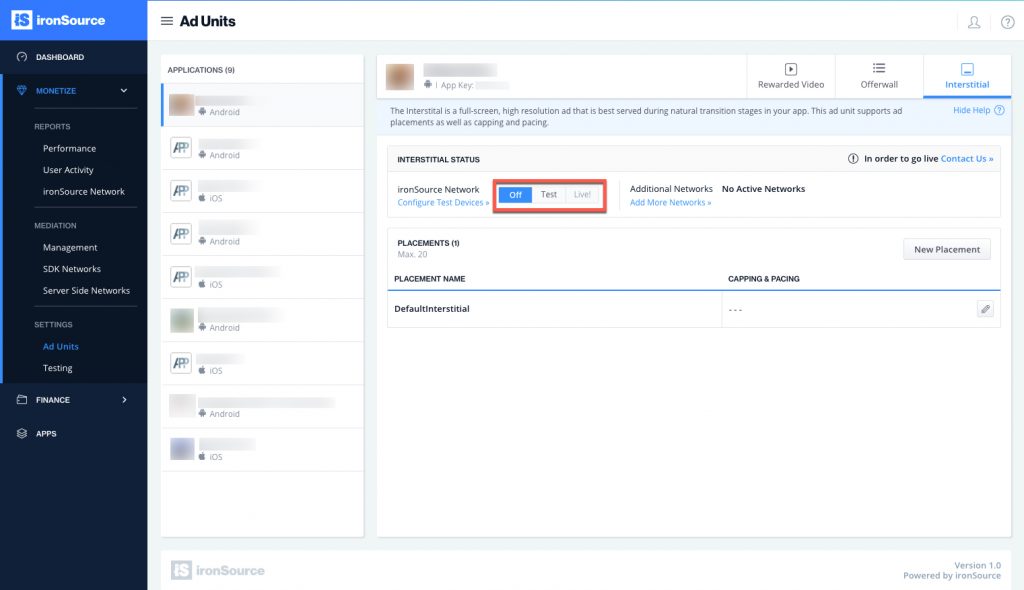 To active the ad unit and receive the revenue it generates, you must provide
Company
and
Payment
information.
Done! Your app can now receive live Interstitial ads