How to add your company information
To start monetizing with ironSource, you'll need to provide your company or individual information and sign our Terms and Conditions.
You can activate ironSource ad units without entering your payment details. However, to receive payment for your monetization efforts, you will need to provide your payment information as described here.
Add your company information
Enter your company's details before you can define your preferred payment method.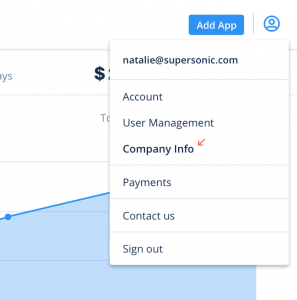 Under your email in the top right corner, go to Company Info
Enter your Finance Contact Information:

First Name
Last Name
Email
Phone (Optional)

Next, enter your Company Information:

Company Name
Address
City
Country
Bank Country (Country where you wish to receive payment)
ZIP Code


Note:

You must enter these details as they appear in your bank records. Some of this information will not be able to be altered after initial setup. If you need to change them, please

contact us

.

Lastly, once you've carefully read the Terms & Conditions, check the 'I agree to the Terms and Conditions' box and click Sign & Save.
Important! Once you have deposited funds to your account or switched one of the ad units to Live, you will not be able to edit your company's name and country. Make sure you have set the company's legal name as the company name and the correct country.
What's next?
Set up your payment details to enable payments to your preferred payment method.
Learn how