Mintegral Integration Guide
This guide will instruct you step-by-step on how to set Mintegral live as an Ad Network on the ironSource Mediation platform.
Step 1. Create a Mintegral Account
Create an account with Mintegral. You can do so

 

here.
Once your account has been verified, you can login at their partner login

 

here.
Step 2. Create an Application in Mintegral
Already set up your application(s) at Mintegral? Skip to here.

First Time Setup Process
If this is your first time setting up a Mintegral account, continue below.
Login

When you log in for the first time, select 'APP Setting'


Add Your App

Upon clicking '+ Add APP', a setup module will appear, Configure your app settings (Choose Ironsource as mediation platform)


Note:

Note

: You will need a unique Mintegral application per platform (iOS + Android) just like you do with your

 

ironSource

 

account.

After you defined the settings, you can choose to check the ad types you DO NOT wish to be delivered to your application.


Add placements

After you defined the Applications settings, select the relevant Apps through dashboard and click 'Placement Management':

click on 'Add Placement' button for adding new placements
Mintegral adapters can serve  Rewarded Video, Interstitial and Banner. Choose the 'AD format' according to your needs
For Banner,  It is highly recommended to set the "Auto Refresh" value for No, since you can control the refresh rate on the mediation platform.
Define your ad unit. As Mintegral network is a bidder only, you must choose 'Header Bidding' as the Bidding Type
Step 3. Activate Mintegral in Your
 

ironSource

 

Network Setup Module

Serving Mintegral's ads through the ironSource mediation platform has never been this easy. Sign in to your Mintegral account when setting up Mintegral on the ironSource SDK Networks setup page.

There are values from your Mintegral account which need to be inserted into your ironSource network setup module in order for Mintegral to work correctly in connection with ironSource:
| | |
| --- | --- |
| App Key | The unique ID assigned to your app on Mintegral's dashboard. |
| SKey | |
| Secret | The unique ID assigned to your Mintegral user. |
Once you obtain this information, you must configure Mintegral's Parameters in your ironSource Account. By adding the above information correctly, you will be able to take full advantage of Mintegral's ad inventory and reporting data on the ironSource mediation platform.
If you don't find the SKey or Secret values 
feel free to contact 
d
eveloper@mintegral.com
or your account manager on Mintegral
.
App Key
Once you have created an application in the Mintegral dashboard (as described in step 2), go to the 'APP Setting' screen – on top of this page, you will find your App Key:


SKey + Secret
Once you have logged into your Mintegral user (as described in step 1), go to the 'API Tools' under 'Account' tab – on the Upper menu:
Now, on the bottom of the page you can find your SKey, as well as your Secret: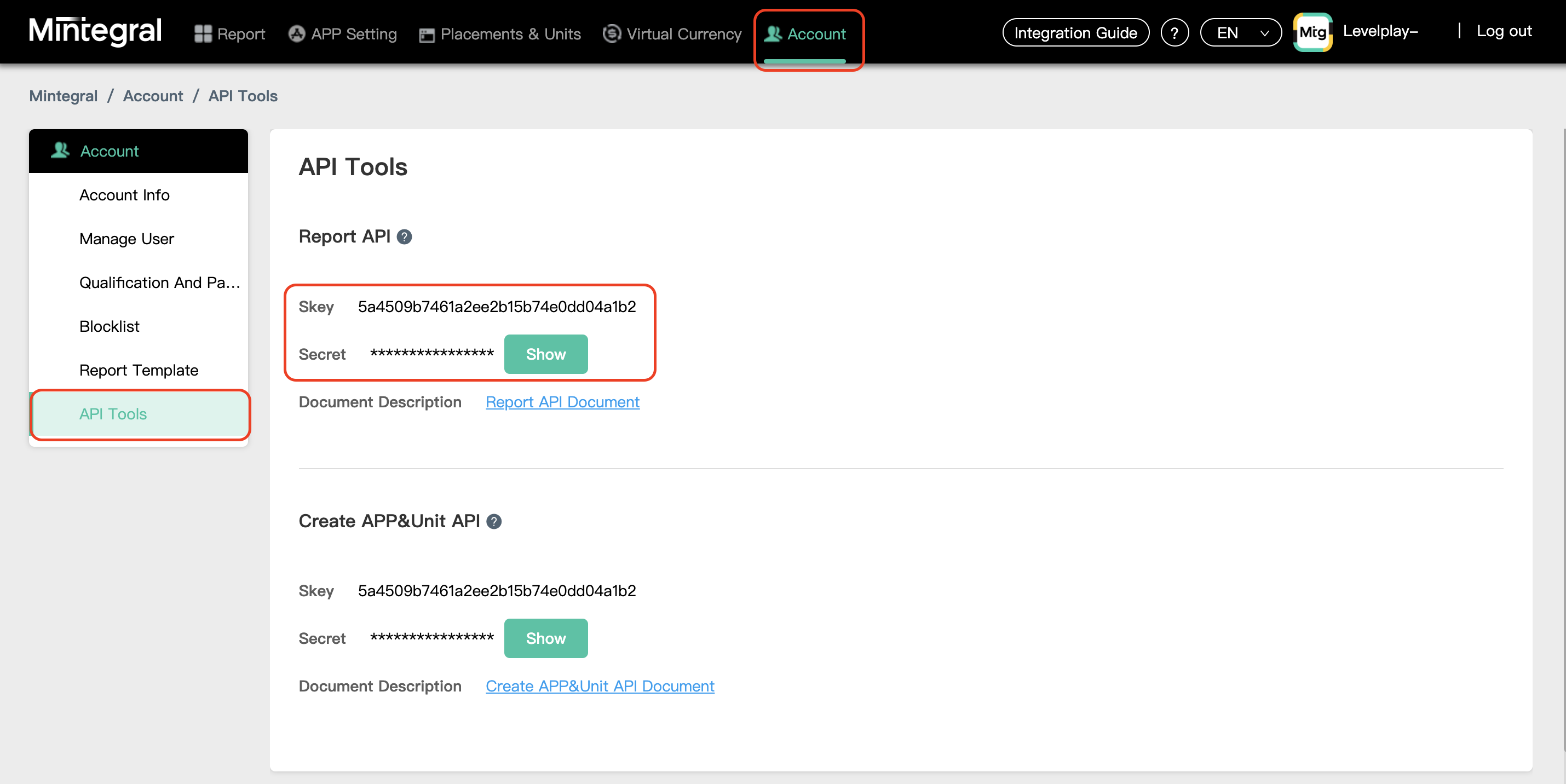 Step 4. Add the Mintegral App level parameters to your app setup
On SDK network page, choose the application you would like to configure, and click on 'Setup' under Mintegral bidder
App level configuration will pop-up , and you will need to insert the following parameters for each app you would like to monetize with Mintegral

App ID
Placement ID
Ad Unit ID

Get all the parameters from you Mintegral account

App ID
Placement ID
Ad Unit ID
Step 5. Add the Mintegral Adapter to Your Build
Continue your integration using native adapters for Android and iOS.
Done!
You are now all set to deliver Mintegral ads within your application!