Analysis
The Ad Quality Analysis page helps you easily monitor the impact ads are having on your app and user experience. You can quickly visualize key metrics like churn per advertiser and drill down to see if a creative should be reported to the ad source. A complete list of supported ad sources can be found here. 
Navigate to the Analysis page 
The Analysis page is accessible from the left side menu under Monetize, then Ad Quality.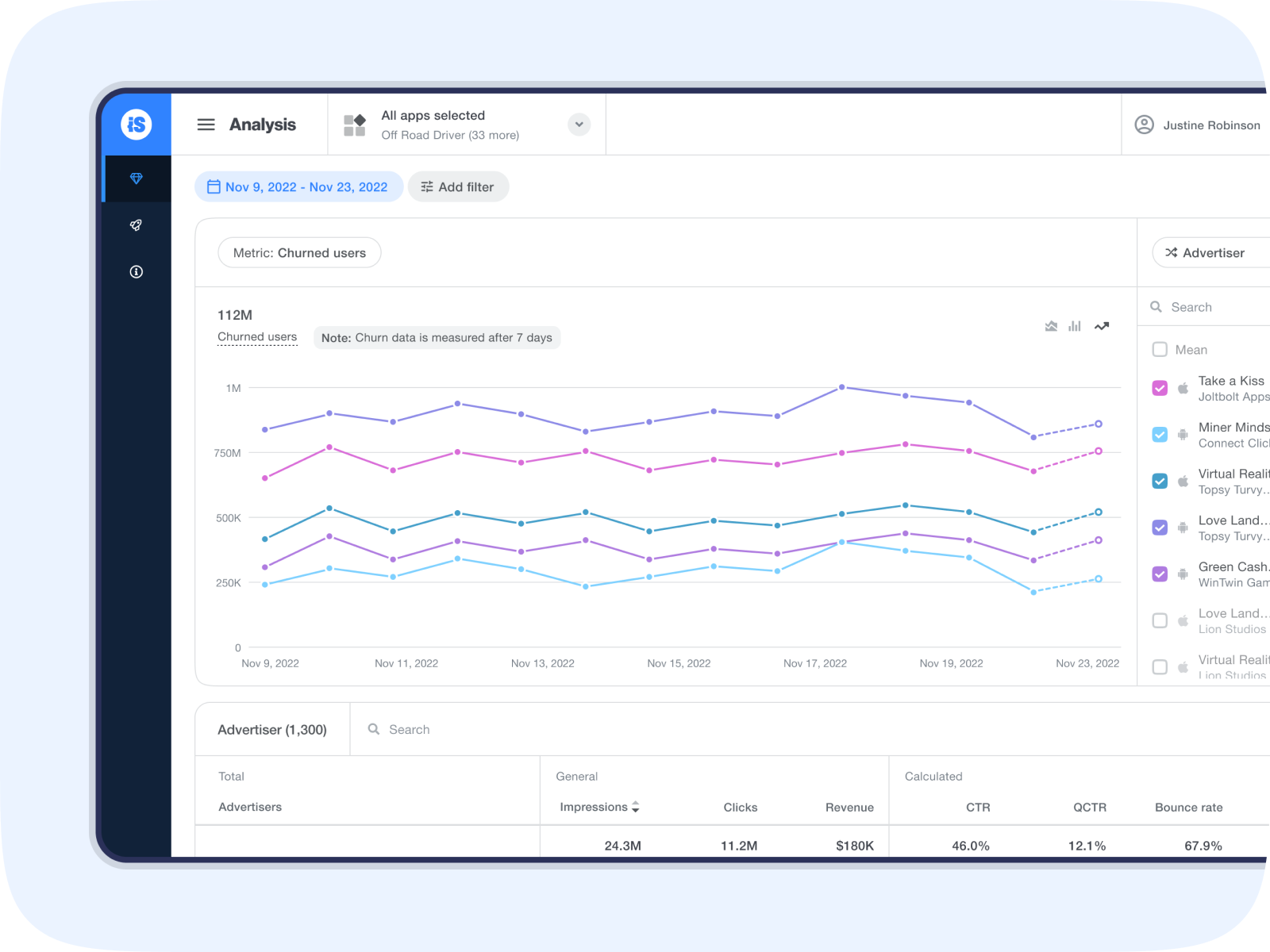 Monitor KPIs
By default, the Analysis page displays a graph of the churned users D7 per advertiser so you can instantly see which advertisers are supplying the most problematic creatives.
Note: The Analysis page includes data for full-screen creatives only.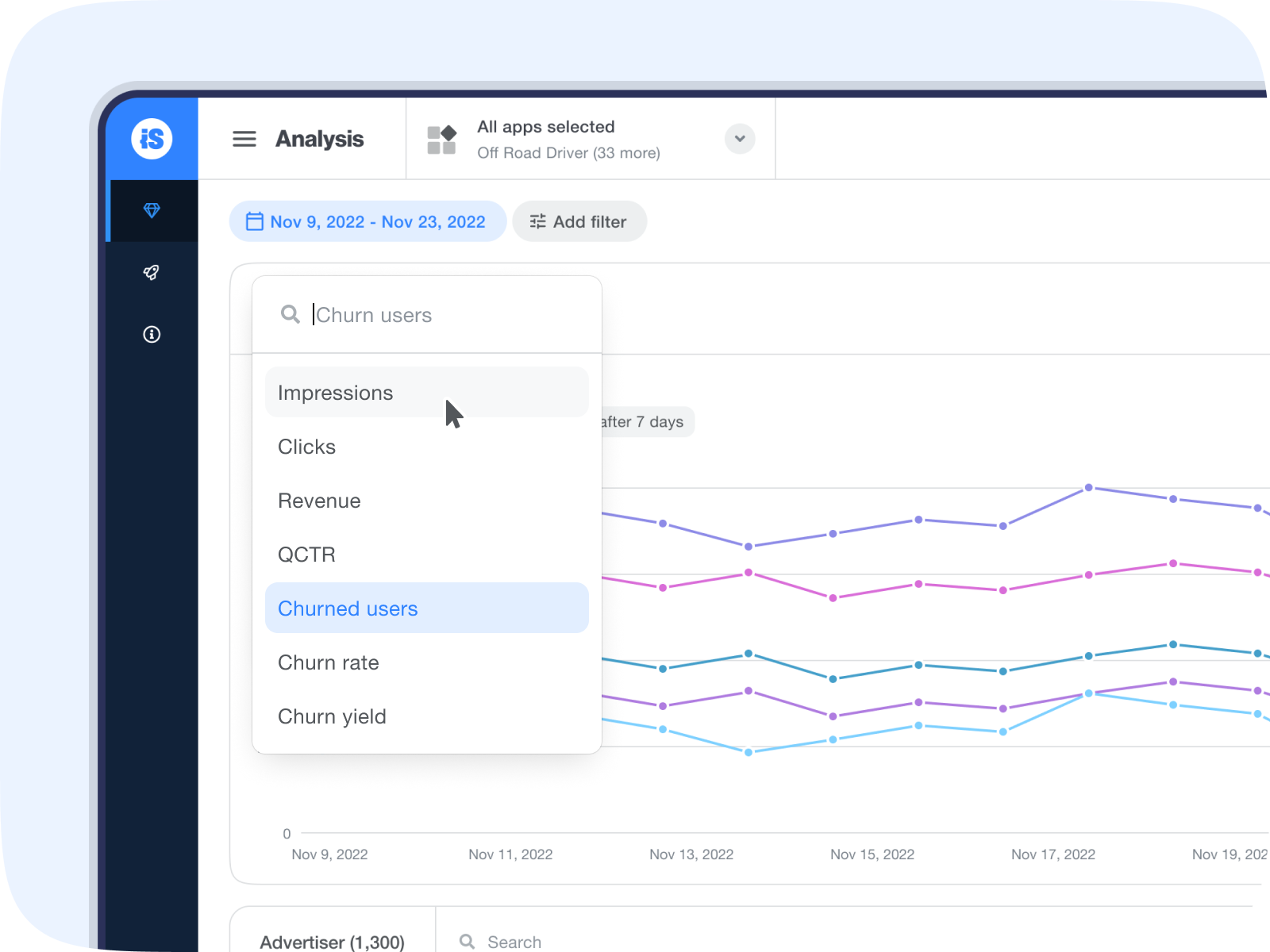 The following metrics are also available: 
Impressions 

Clicks

QCTR

Churn users D1/D3/D7/D14

Churn rate

 D1/D3/D7/D14

Churn yield D1/D3/D7/D14
Visit the Ad Quality Glossary to see how these metrics are calculated.
These are the additional break by options:
Developer

Apps 

Ad sources

Countries

Category

Platform

Ad unit

Creative type 

Content rating
Apply filters to help focus on the data you want to investigate by clicking Add Filter at the top of the page.
The filters and breakdowns you selected will also be applied to the table at the bottom of the page. In addition, when you navigate to the Creatives page, the same filters will be applied.
Display options 
Choose from 3 different data display options: stacked, bars, and lines (default).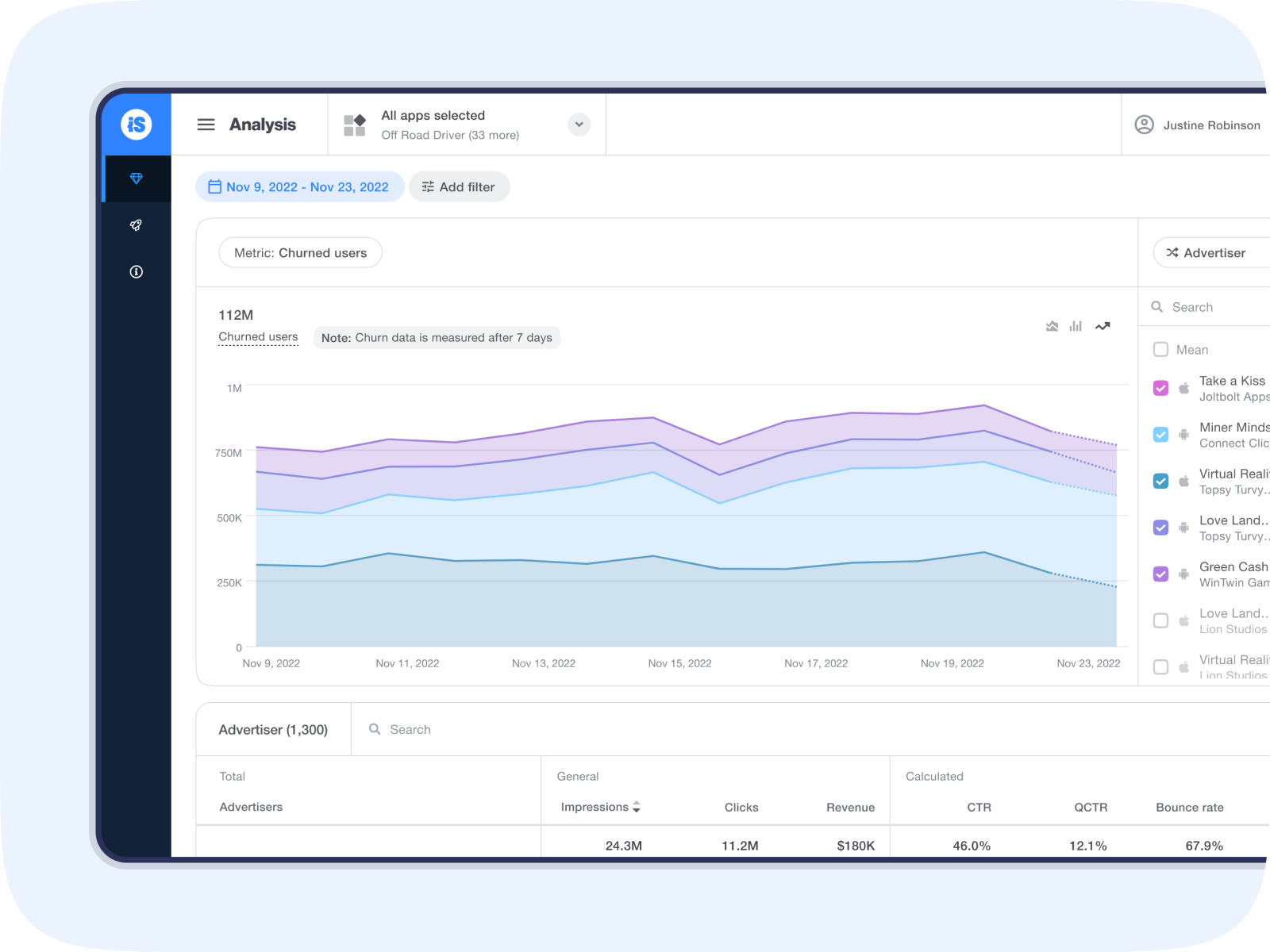 In-graph insights
Once you've selected your display options, hover over a particular point in the graph to get more detailed insights.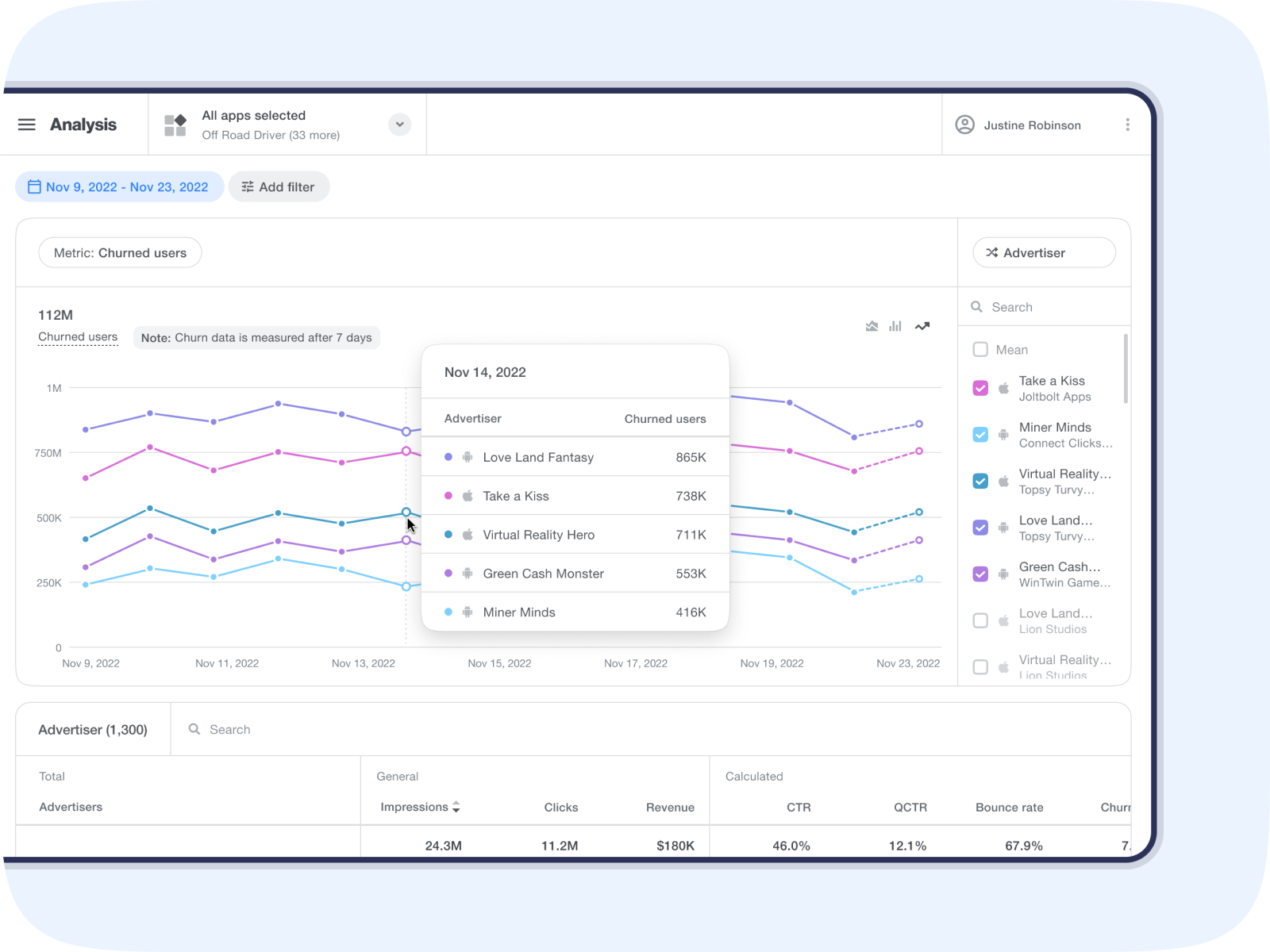 In-depth reporting 
Scroll down to see a table with more granular data based on the filters and breakdowns you selected, including:
Impressions

Clicks

Revenue

CTR

QCTR

Bounce rate
Ad escape rate

Churn rate D1

Churn rate D3

Churn rate D7

Churn rate D14

QClicks

Hasty clicks

Proximity clicks

Auto clicks

Early clicks

Ad duration

Ad closed

Completed views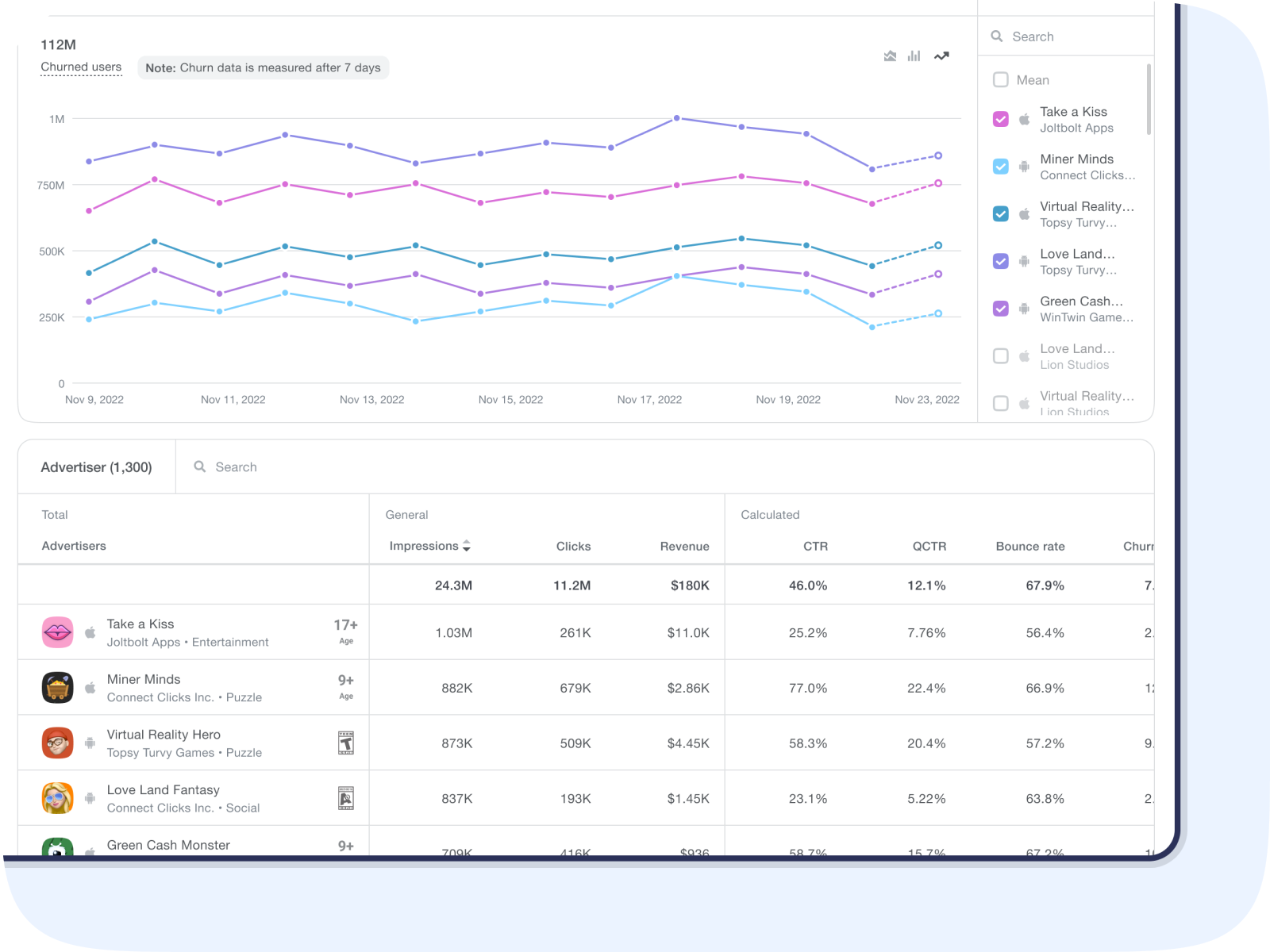 If you find a potentially problematic creative in the table, navigate to the Creatives page to view the creative and send a report to the relevant ad sources. Learn more