Creative analysis
Creatives
The Creatives page displays a gallery of the ads that were shown to users in your apps. Use this data to better understand how users experience your monetization strategy in your app.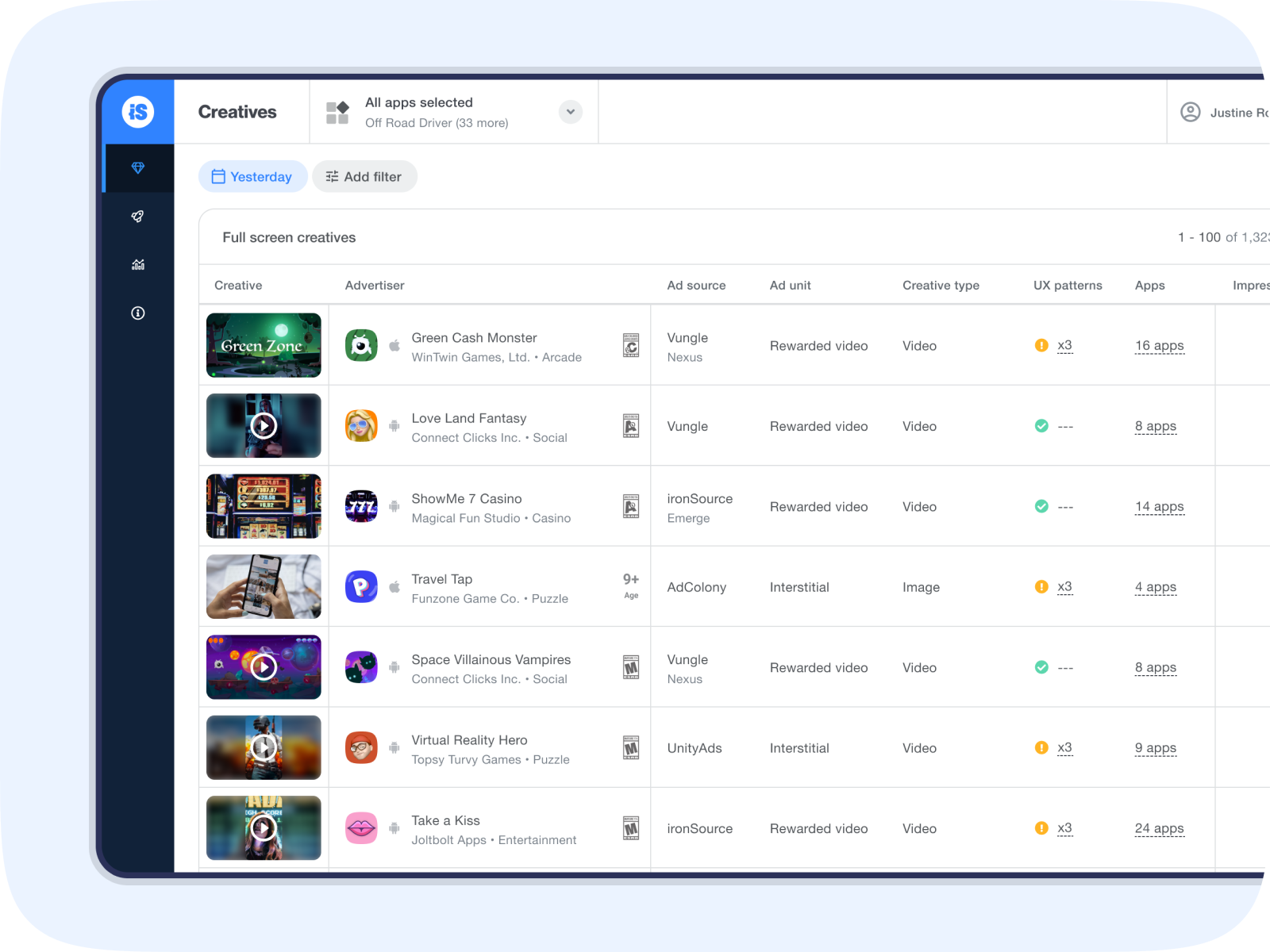 By default, you'll see an account overview of the ads showing in all your apps. To see the ads showing in select apps, click the dropdown menu at the top of the screen and choose the apps you want to see data from.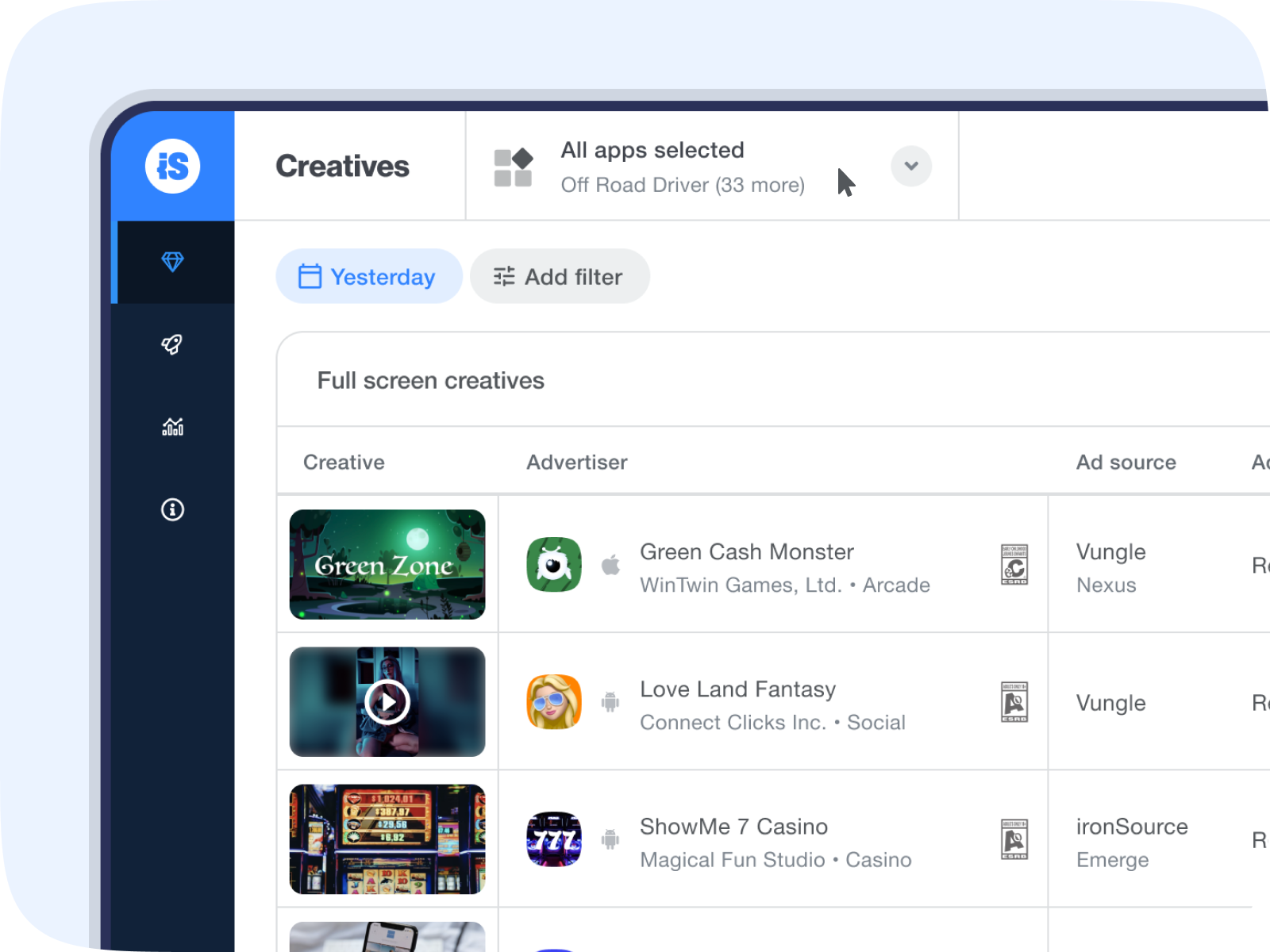 View performance metrics for each Creative:
Creative

Advertiser info

Ad source

Ad Unit

Creative type

UX patterns
The apps that the creative appeared on

Impressions (sorted by default)

Clicks 

Revenue 

Churn rate
Churn yield
To export your creatives list as a CSV, click on Export CSV at the top of the page. The file will contain all the information available on the Creatives page, according to the filters and date range you selected.
Click the advertiser name to see the entire creative. You can interact with playables and skip to end cards for the full ad experience.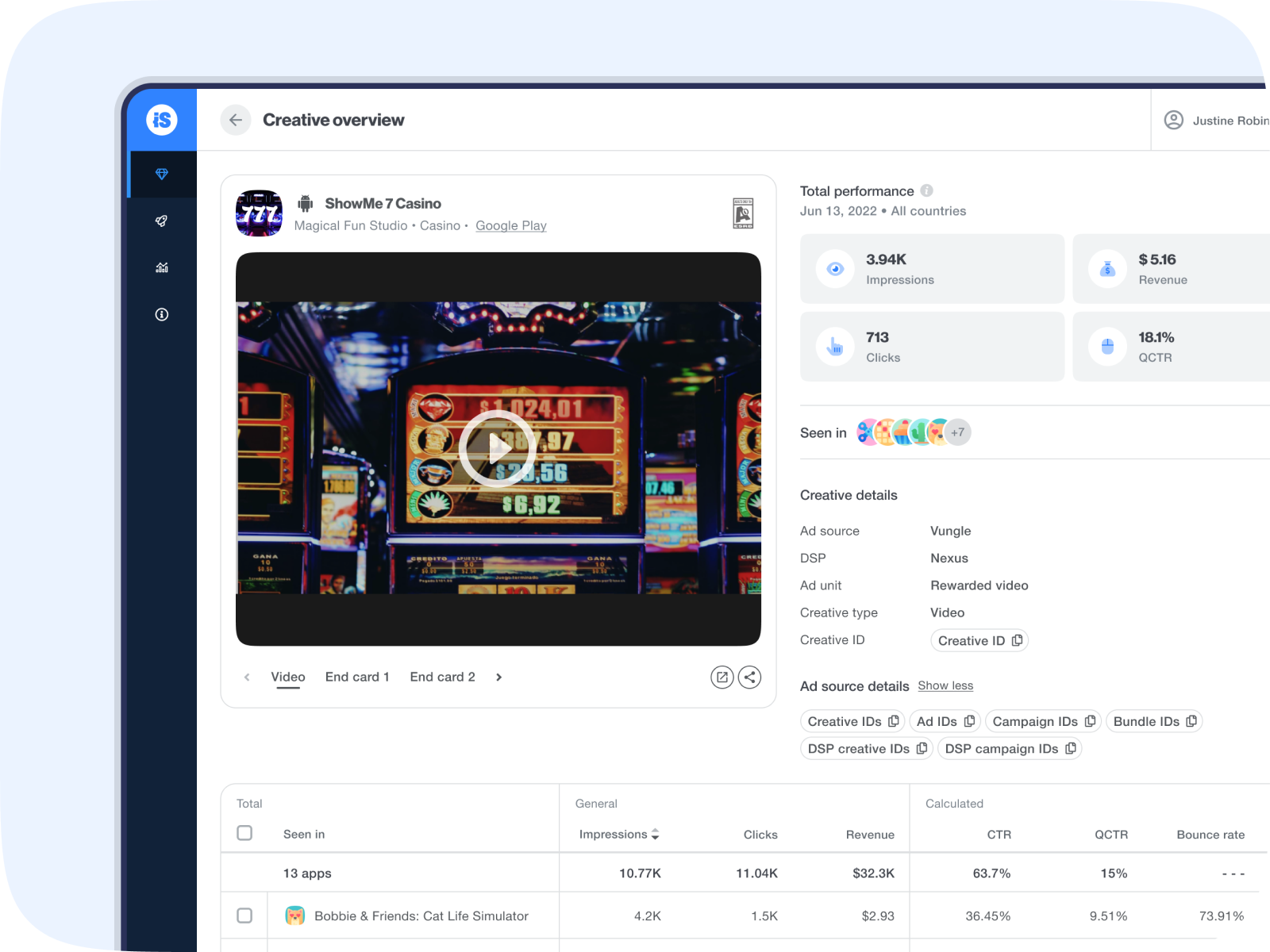 Scroll down on the page to see which of your apps this creative appeared in, how it performed, and if any UX patterns were detected.
Note: All metrics are updated every 4 hours.
UX patterns
If you see a warning tag ⚠, it means that a UX pattern was detected. This tag enables you immediately identify potential issues with your user ad experience. Hover over the tag to see what the issues are.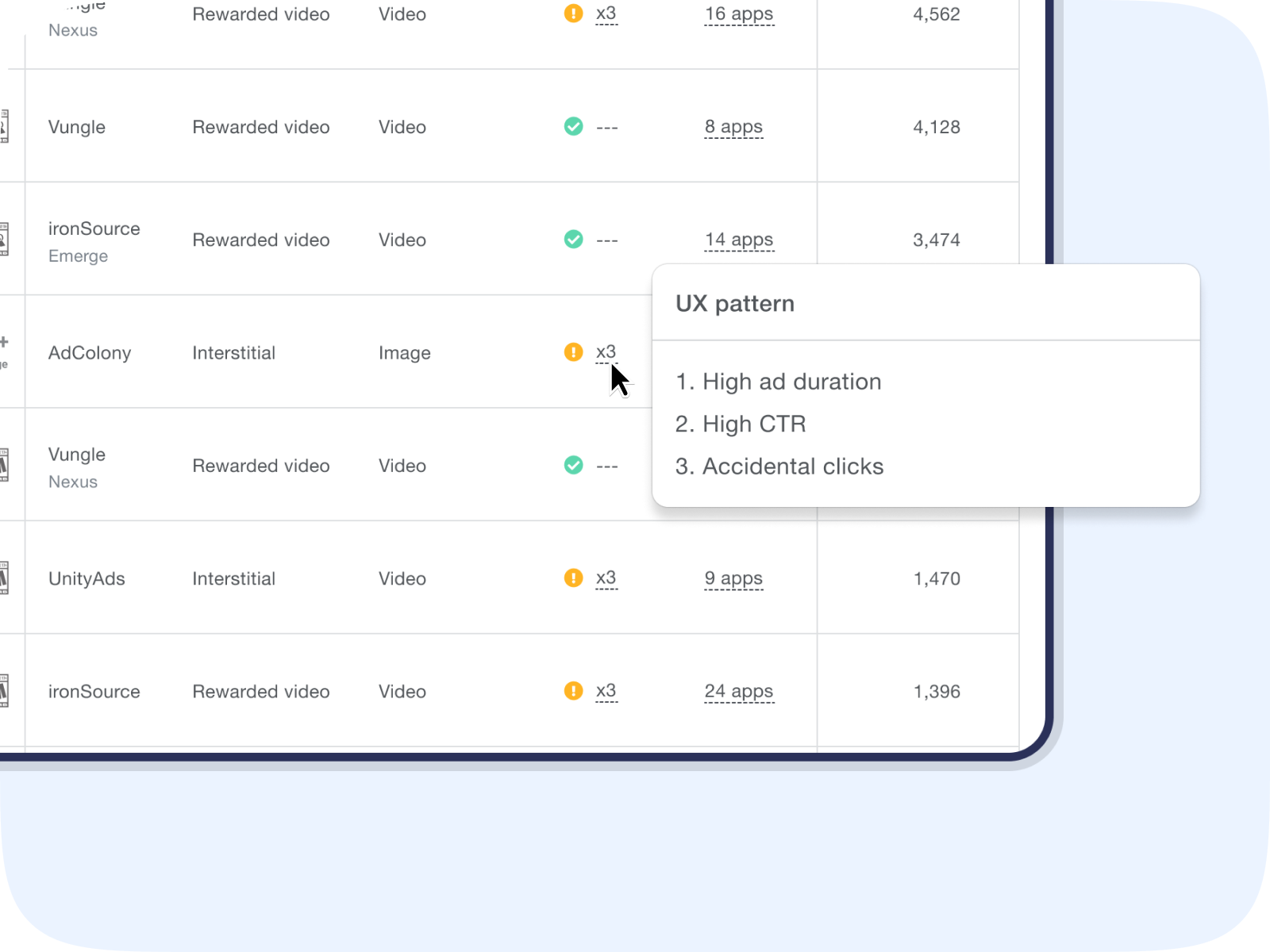 Anytime you click on a specific creative to see more info, you'll see all the UX pattern issues related to it highlighted red in the table at the bottom of the page.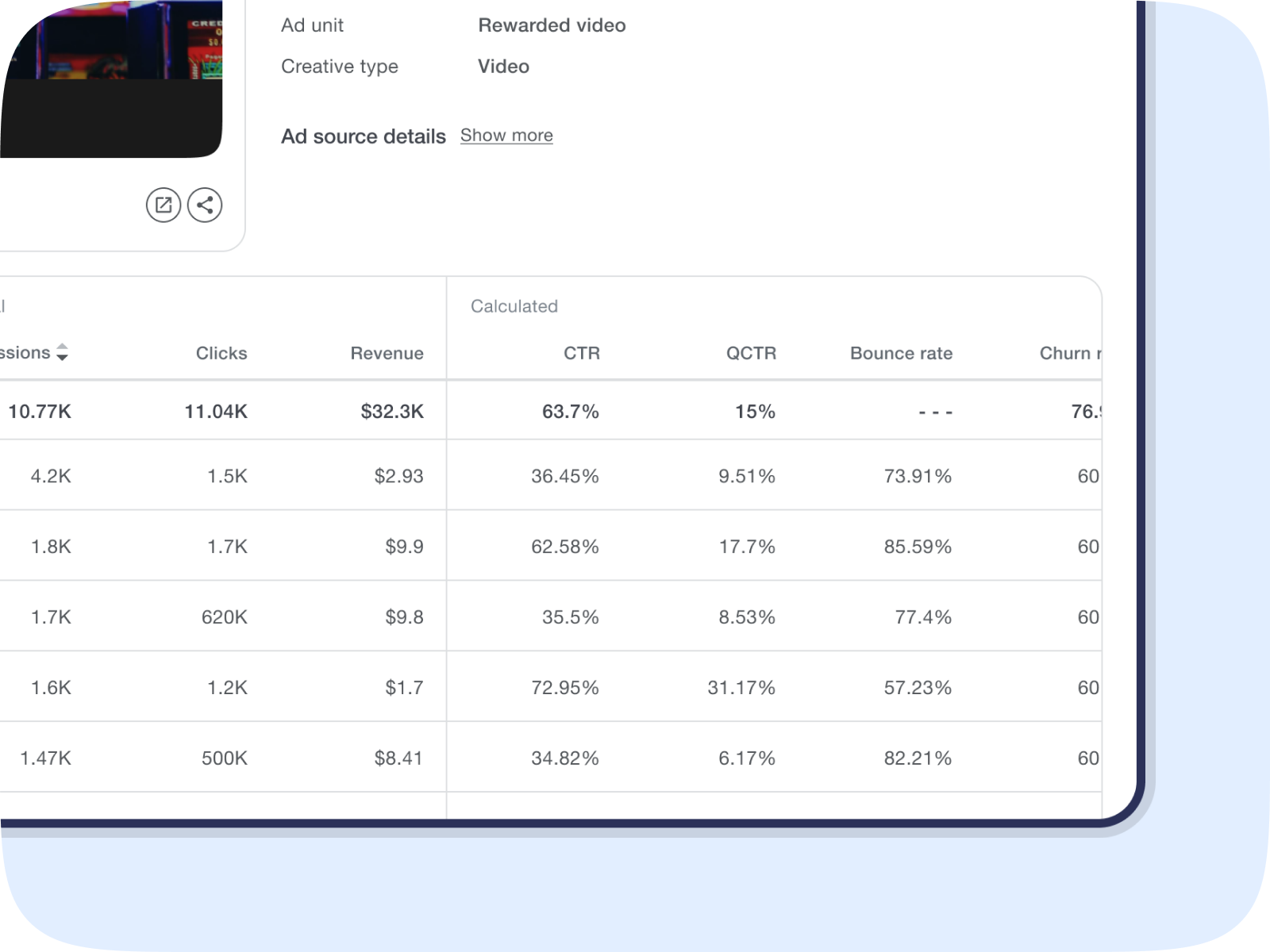 If a specific creative has a high percentage of users that experienced a problematic UX pattern, the creative will be marked red. 
These are the alert thresholds:
Metric
Percentage
> 20%

Auto Clicks
Proximity Clicks
Early Clicks

> 50%
> 70%
> 80%
Learn more about how these metrics are calculated in the Ad Quality glossary.