iOS campaign setup
Promote your app on iOS devices and drive new users to download it with a user acquisition campaign. 
Watch this video to learn how to create a new campaign for iOS devices on the ironSource Network that also supports reporting for SKAdNetwork. Step-by-step instructions are listed below.
How to create a new iOS campaign 
Inside the ironSource platform, go to the Campaign Management page and click New Campaign.

Step 1: Basic Information
Give your campaign a name and choose the title you want to promote. You can select a title from the drop-down menu or add a new one.
You will see the number of campaigns you have remaining for this title that can be used with SKAdNetwork.
Enable SKAdNetwork reporting to receive SKAdNetwork data for the campaign. This will count as 1 of 7 SKAdNetwork campaign slots for this title. You can make a campaign slot available again by suspending an active one.
You will be able to see this campaign on by enabling the SKAdNetwork Reporting toggle on the Campaign Management page.
Then, schedule your campaign and set your budget.
Note: If you don't set a budget or schedule your campaign, your campaign will run with an unlimited budget and will launch immediately once approved.
You can change any of the Basic Information fields aside from title at any time.
Editing the click or impression URLs can affect campaign performance and reporting. It's best to check with your account manager prior to making changes to these links post-launch.
Step 2: Measurement

Add both the click and impression URLs for attribution and reporting purposes. These URLs must be formatted correctly and contain our required macros. If using the default URLs from your mobile measurement partners, all formatting will be correct.
Learn more about the attribution companies ironSource works with here.
Step 3: Cross Promotion

To set up a cross promotion campaign, you can either create a new campaign or run cross promotion in an existing campaign. Contact your account manager for back office support.
When creating a new cross promotion campaign, make sure the Exclude my other titles box is not checked.

If you choose to run cross promotion in your existing campaigns, un-check the Exclude my other titles box. This will enable the campaign to start running on the cross promotion bidder once cross promotion is activated in the platform.
Learn how to set up the cross promotion bidder here.
Step 4: Bid & Countries
Choose your bid type, bid amount, and countries where you'd like your campaign delivered. Then set your target bids per country.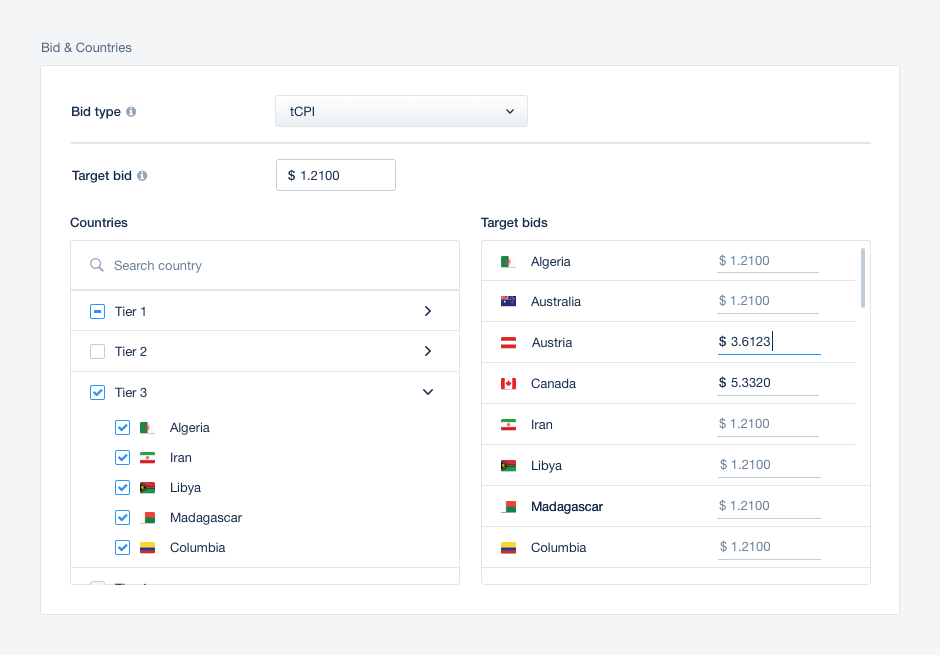 Step 5: Creative Sets
A creative set is the ad the user sees and then clicks. You can create a new creative set or apply a previously uploaded creative set to your campaign.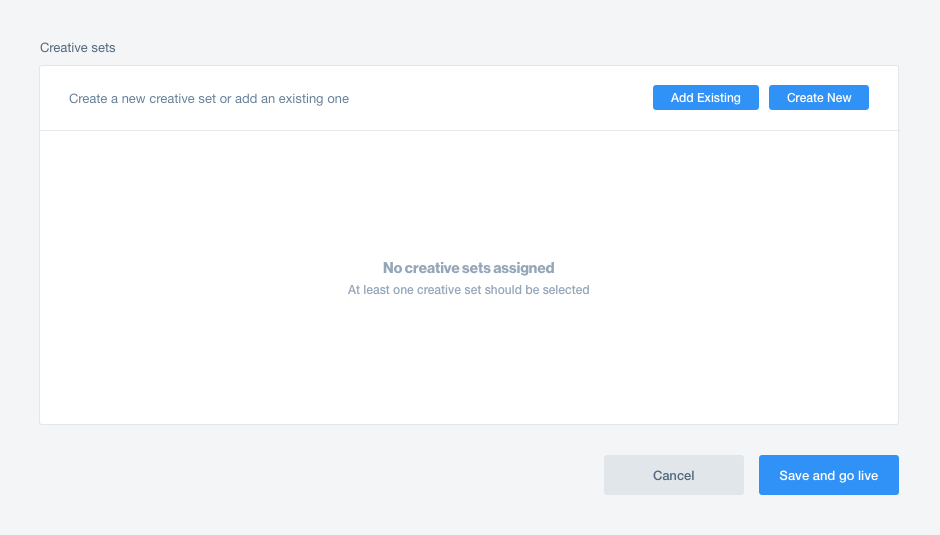 To apply an existing creative set that's linked to a different title, simply adjust the title in the dropdown menu and select your preferred creative set.
We recommend launching a campaign with no more than 4 creative sets. To learn more, read the creative sets article.
To launch, click Save and Go Live!
Note: The campaign will be under review until your account manager approves the creatives and confirms your measurement URLs.